Here we list works of art (e.g. sculptures, installations, films, performances) inspired by, and involving, tidal processes and landscapes. At present paintings and drawings of tidal scenes are not mostly included as we are focusing on more preformative, animated productions, and some photography and film.
We will focus on arts work which incorporate the tides as 'active agents' in their composition. There are quite a lot we know of, so the list will develop over time. Please send any ideas to Owain – owain.oj(at)btinternet.com
Many thanks to those who have already sent information in about their work, or work known to them.
These are in no particular order – as we find them.
We will try to put title, artist, location and date, and one or two images and links.
Currently we are approaching 100 or so entries, but some of those are multiple site efforts so the numbers are a bit approximate.
Newest finds are added to the top of the list.
Other extensive Tidal Cultures lists on this site are non-fiction books about tides – here, and our (poetic) tidal glossary – here
(See also Severn Estuary Art Atlas (SEAA) and Wadden Sea Art Atlas (WSAA). These are blogs and maps just about the art in these two amazing landscapes).
---
The Brave Monument; Anilore Banon; 2004; Normandy: France
In the inter-tidal zone on Omaha Beach in Saint-Laurent Sur Mer, in the Normandy region of France. It's called Les Braves. It was erected in 2004 as a commemoration to the American soldiers who died during the D-Day Invasion in June of 1944.
The sculputure, which has more elements than that in the picture above, stands just below the high tide line. This can been seen in this video, as can more information.
---
Re-wilding the Wordhoard; Jo Sweeting; 2022; Devon; Uk
A project where sculptor Jo Sweeting carves words into boulders in an intertidal area on the coast of Devon. The boulders are then repeatedly inundated by the tide and also, on occasions, moved about by the force of the sea. The project is linked to Robert Macfarlane's book Landmarks and the 'wordhoard' it contains. The words carved into the boulders might be taken from the hoard, or gathered in other ways. They are words about landscapes and places, and people's interaction with them. See the project webpage here
Also from the artist's website; 'As Robert MacFarlane says: "My own quiet hope is that the land and sea themselves become co-collaborators with Jo, as well as the stone into which she proposes carving. I am very attracted by the idea of the main stone/shore boulder onto which Jo proposes carving as having a life of its own; moving and migrating, being shifted by tide and storm (like David Nash's famous wooden boulder). For language moves too; has its own longshore drift, its own erosions. To me, the artistic resonances of the idea of a carved erratic with the way that language moves, slowly, are very suggestive.'
---
36.5 / A DURATIONAL PERFORMANCE WITH THE SEA; SARAH CAMERON SUNDE; Various locations; 2014 – ongoing
An amazing set of collaborative performances!
From the artist's website
36.5 / A Durational Performance with the Sea is a series of performance works and video works created by Sarah Cameron Sunde that engage people on personal, local, and global scales in conversations around deep time and sea-level rise. It began with a poetic gesture – standing in water for 12 hours and 48 minutes while the tide rose and fell on her body – and has grown into a complex, collaborative, evolving series of works spanning seven years and six continents. By executing these works in seas around the world in both a live form and video form, we hope that each individual that encounters the project will consider our contemporary relationship to water, as individuals, in community, and as a civilization.
Each work in the series consists of deep community engagement, live performance event, a time-lapse video, and a long-form cinematic video work from a different coastal location. For each:
"I travel to a location threatened by sea-level rise to stand in a tidal area for a full tidal cycle, usually 12-13 hours; water engulfs my body and then recedes again. The tide tracks time on my body viscerally, and functions as a metaphor for the changing environment. The water is my collaborator and the risks are real. I stay present in the sensations, attempt to embody the ocean and find a way to endure the struggle. The public is invited to stand in the water with me for however long they like and to participate in performing a series of physical gestures from the shore, creating a human clock that communicates to me each hour that passes." (Sunde)
The entire performance is filmed in real time from multiple perspectives and then translated into a multi-channel video installation that can be shared with a much wider audience.
To date, seven 36.5 works have been created with communities around the world:
36.5 / Bass Harbor, Maine (2013)
36.5 / Akumal Bay, Mexico (2014)
36.5 / San Francisco Bay, California (2014)
36.5 / North Sea, The Netherlands (2015)
36.5 / Bay of Bengal, Bangladesh (2017)
36.5 / Bay of All Saints, Brazil (2019)
36.5 / Bodo Inlet, Kenya (2019)
Next up:
36.5 / Te Manukanukatanga ō Hoturoa, Aotearoa-New Zealand (2020-2022)
36.5 / New York Estuary, USA (2020-2022)
With each location, the video work grows into a larger scale video installation. In its final form, the entire series of works will consist of a 12-channel video (two per location, starting with North Sea) with six layers of audio (one per location) that can be acquired to be shown or commissioned for exhibition anywhere in the world – in full scale or on a smaller scale."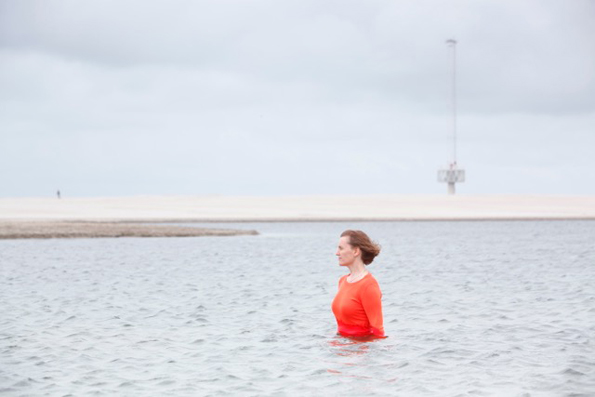 See videos on the artist's website
Maybe one day in the UK
---
High Water: sharing our connections to the sea and the tides; A one day online event; UK; 2021
This was a large event involving numerous artists. I was involved as a speaker! I very much shares the ambitions of this blog page, and I hav taken some of the art featured for this list. Thanks!
Created by art-earth.org.uk.
From their website
"We invited people to share with us your story about the sea and in particular high tide. It might be a reading, some factual information, an image or a recording. It might be something you've found on the beach (brought there by the tide), it might be a story from today or last week or many years ago. The response was phenomenal – far more than we can squeeze into 12 hours!
We have now published the video record of this mammoth event and will be adding supplementary material soon.
Tides are the constant ebb and flow of the planet, the stuff of myth and legend, artwork, folklore and personal history, scientific study and monitoring. Spring tides occur twice each lunar month, around full moon and new moon. The height of the spring tide varies throughout the month (and year), depending on the distance between Earth and the Moon (and the Sun). On March 30, in Exmouth, UK we will experience our highest spring tide of 2021. Art.earth, Tidelines and Low Carbon Devon invite you to mark this equinoctial tide by sharing your tide story with us. You might be an expert or you might just visit the sea once a year – whatever your relationship to the sea we want to hear from you.
We asked: Do you visit a particular place to observe the tides? Do you have a seasonal connection to the tides? Does the tide directly affect you where you live? Have you observed wildlife behaviour relating to the tides? Are you aware of an emotional response to high tides? Have you noticed changes in the tides and do you believe they might be linked to climate change? Does our knowledge of the tides, and our awareness of them become more important as the climate and sea levels change?
The High Water event starts at 08.30 BST on March 30 and continues to low tide, six hours later, and perhaps beyond. Join us at any time between 08.30 BST to 21:30 BST.
Who is it for?
Anyone moved by or concerned about the tide! We welcome a variety of experiences and perceptions of the tidal movement of the oceans in order to better understand and define its meaning and effect on us. You may be a sailor, a coast watcher, a climate scientist, a poet, a marine biologist, a lunar shaman, a seaweed harvester, an ocean researcher, a fisherman, an artist or a paddle-boarder or you may just visit the sea occasionally. The tides affect many of us incidentally or habitually. We would love to hear all these stories.
…and why are we doing it?
Tides connect us all to the oceans which make up 70% of our planet. High Water is a gathering of people from different backgrounds and places to draw attention to the tides and their importance in all our lives – in particular in the lives of people who live near and by coastlines – and to celebrate our timeless connection to the tides as an impressively awesome power on the planet. Our coasts are changing, as witnessed by the effects on wildlife, plantlife and disappearing coastlines. High tides are the moments that we notice the power of the oceans and, when combined with rising sea levels and temperatures and more frequent and unpredictable weather events, these tides can be devastating. By becoming more aware and bringing together different forms of knowledge and sharing stories we can learn more about our world, how to live with it, and how to adapt and respond to changes."
---
High Water; Indigo Hanlee and Michael Thomas Hill; Sydney, Austrailia; 2018
"Taking information from tides and local weather patterns, High Water transforms live data from each day into a constant moving watercolour. These striking colours are displayed on a 9 meter LED tower on the Green Square Plaza.
High Water interprets our changing physical world every minute of the day through changes in temperature, humidity, wind direction, precipitation levels and tidal patterns.
Using a mix of handmade watercolours and generative art, High Water provides a visual interpretation of our changing climate.
A complementary website allows visitors to understand the data, colours and patterns in real time and see visual summaries of local environmental conditions over the day, week and year. Access the visual record archive at www.highwater.sydney" Source here https://www.cityartsydney.com.au/artwork/high-water/
The artists;
Indigo Hanlee and Michael Thomas Hill create digital media for public spaces. Working as part of the Sydney-based design studio Lightwell, they use new technologies to interpret the physical world.
---
T I D E; Ruth Broadbent; UK; 2021
Viideo and Still Image
"watermarks, tide, drawing and mapping water"
From the artist's website
"TIDE records trace memories of the movement of sea water and sand at the water's edge, an elemental dance of sand and pen on paper.
TIDE is a drawing and video, both a standalone work and part of a video assemblage created for 'Watermarks', a Walking The Land project, screened at The Edge Conference 2021, University of the Highlands and Islands.
To watch TIDE click on image below or watch by clicking on these links for Vimeo or YouTube."
---
Tied to Tide; Jennifer Turpin and Michaelie Crawford; Sydney Australia, 1999
"Tied to Tide is a kinetic sculpture that translates the eternal return of the tides as well as the more unpredictable wave wash and wind chop of Sydney Harbour into movement.
Red ladders respond to the wind, and counter-balanced hardwood beams are connected to a float that transmits the water's movements along their length.
The tides lower and raise the beams, hovering close and almost parallel to the water's surface at high tide and angling high above the receding watermark at low tide.
In calm conditions, the beams bob gently, when it is choppy their action is more staccato."
---
Tide I and Tide II (sculptures); and High Tide (print); Barbara Hepwoth; UK; 1946 / 1970
Hepworth lived and worked in Cornwall so would have seen the tides daily.
she made two wooden scultures.
Tide 1 1946
From the Tate website
"This sculpture belongs to a group of oval wood carvings dating from the mid-1940s. The splits in the wood occurred while the work was in progress, and so the artist abandoned it unfinished. Nonetheless, the sculpture embodies a strong empathy with the Cornish landscape which inspired it, and with the material used: 'I believe that the understanding of the material and the meaning of the form being carved must be in perfect equilibrium.' There is another, smaller version, 'Tides II', which was executed in the same year. This sculpture was presented to the Tate Gallery by Ben Nicholson in the year of Hepworth's death. Gallery label, September 2004,"
To me the cracks look like waves!
Tide II 1946
Source here. (But they say this is Tide I and the above Tide II).
High Tide 1970
Source also the Tate
---
TIDES; Cecilia Jonsson; Denmark; 2017
Mandø, Danish Wadden Sea
Found on Artwork Earth here
Jonsson's TIDES is a mixed-media installation of rising tidal records. Textiles dyed with a pH indicator were positioned at selected intertidal sites as a means of documenting rising tides. In the installation they are combined with a time-lapse video of the fabrics changing. >>
"Two key variables in determining tide height are seabed topography and coastal topography, humans have changed both in extensive ways. Searching for such an unstable average surface height has recently taken more urgent importance due to global warming and rising sea levels. Caused by melting of non-polar glaciers and thermal expansion of the ocean water mass the tide represents not only an environmental and scientific challenge, but also a force whose physical and psychological influence on our culture cannot be denied." (Cecilia Jonsson).
Artist website here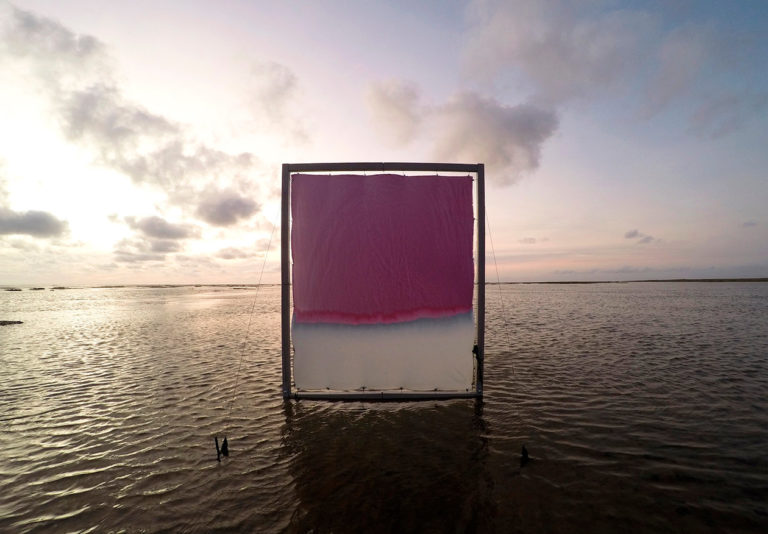 ---
EspacioTiempo de la Marea: Huellas & Palimpsestos; Heather Green; Mexico; 2022
Solo exhibition and print exchange.
Held at Ecléctico ArtSpace: Galería Arte Contemporáneo; Eva Briseño 580, Zapopan, México.
January 12–March 19, 2022
An artist talk and reception was held on Thursday, January 13th 2022, 5–8 pm.
And a workshop; 'Libro de Almacenamiento': Saturday January 15th, 10:00–2:00 pm.
This showed work from Heather's onging project Tidal Timespace: Imprints & Palimpsests (works in-progress) (see website here).
From the website:
"As part of the exhibit, an international print exchange featuring 12 artists from the UK, México, and the US will be shown. Each artist responded to the title of my tides project, interpreting it in their own voice. (Ioulia Akhmadeeva, Inge Bruggeman, Sarah Bryant, Macy Chadwick, Rebbecca Chamlee, Lydia Halcrow, Tracy Hill, Kathryn Maxwell, Coral Revueltas, Wendy Rhodes, Barb Tetenbaum, and Mauricio Toussaint)"
Some images:
An essay entitled Stillness and Tides was written for the exhibition by Katherine Larson. It is available here as a pdf. Thank you for permission to publish it here.
---
Ebb and Flow Paintings (and other artworks); Kaneli & Smit; Netherlands.
Kaneli and Smit are a long standing artistist collaboration who specialise in creating work together, often painting/working jointly on the same canvas. Much of their work is performative, and also incorporates the material agencies of nature. They are based in the North Netherlands, and their work is heavily engaged with the landscape in terms of vistas,materialities and processes. This includes working in the tidal Wadden Sea area. A current series of artworks is entitled 'Ebb and Flow'. This is a substantial series of works which is created in processes which move from studio, to site and back to studio. The below extracts are from their artist website. Please do visit their site to see more of their work and much more about the 'Ebb and Flow' project, including photographs and technical details. Thank you to Kaneli & Smit for reaching out to this blog.
About the Process
"The painting becomes a collaboration of tides and other natural forces, including human intervention.
In their outdoor studio, on the edge of the country bordering the sea, Kaneli & Smit seek a synergy with the Wadden Sea. Literally, they work together with the sea and its tides. They treat their paintings similar to the salt marsh management of the Wadden Sea coast. On the tidal flats, they let the tides act on and transform their canvases to accentuate the indefinite boundary between sea and land. With each tidal movement of the sea, flood lines appear on the painting: the painting is the landscape, created with the influence of fluidity and unpredictability. Thus a new imagery is created by and from this dynamic landscape."
About the Ebb & Flow Paintings
"All canvases are stretched on a frame and prepared in the studio in advance.
During low tide, the canvases are vertically attached to a structure in the tidal zone of the Wadden Sea.
Most of the canvases are treated beforehand with layers of white paint, some with additional layers of background color and others specifically to collect diatoms that float during flood tide and cling to the canvas.
Some of the canvases are painted on site with sea-clay (clay from the Wadden Sea).
During high tide, the prepared canvases get partially submerged in the sea.
During low tide, canvases are completely above the sea and the result is visible as flood lines; horizontal tidal marks on the canvas.
Every tide is unique.
The canvases remain from 1 day (for 2 tides) to up to 15 days (for 30 tides) hanging in the sea.
Afterwards, the canvases are disconnected from the structure on the tidal flats and preserved by fixation in the studio".
---
A visit to Lydia Halcrow's PhD with Practice Exhibition: Matter Maps (study area: the Taw Estuary, Devon, UK). Bath Spa University; 19 10 2021.
Lydia's art practice for her PhD was an in-depth engagement with a tidal landscape known to her as a child, adult and parent: the Taw Estuary, Devon, UK. The art works explore various aspects of time, materiality, family, memory, climate crisis, and the agencies of collected material and weathering and tidal processes. Lydia's uses of range of body and material/process practices to create these lovely, often fragile, works. Artist website here.
---
BAY REQUIEM: A WORK IN PROGRESS: Nina Haft & Ian Winters and collaborators, USA, 2014.
This was presented at Water Views: Caring and Daring; Waterwheel World Water Day Symposium 2014, and it is in its published form. Here.
Oakland, CA, USA
Location: Hayward Regional Shoreline nature centre and marsh. The below text is part of that in the Water Views publication (link above).
"'Bay Requiem' is part of an long-term site-specific project addressing sea level rise around the San Francisco East Bay Shoreline created by collaborators Mary Armentrout, Lauren Elder, Nina Haft and Ian Winters. Filmed, performed and presented in the Hayward Regional Shoreline, the telematic showing of the 'Bay Requiem' work in progress for the Waterwheel Symposium was the first public showing of one strand of ideas.
The performance material shown was choreographed as a series of site-specific improvisations by Nina Haft and her dancers, and Mary Armentrout. The visual and sonic material was structured for a Tap presentation by Ian Winters, and filmed by Winters, Elder and Haft. The work on the Tap consisted of pre-recorded video shots of the site at the time of the "King Tides"(when tides reached one of their highest point in years on San Francisco Bay). This was mixed up on the Tap with live video of the sire-specific performance, and mapping information / live chat about the site.
Still from the site
For Haft, Bay Requiem started as a conversation about impermanence:
"Our initial meetings were about king tides – the extreme high and low tides that happen twice a year, and which are often exaggerated by winter weather patterns. For example, the devastation of New York City by Hurricane Sandy revealed the potent alchemy of tides, storm are frequently the result of this kind of multiplier effect."
King tides offer us the opportunity to stand in the now while experiencing the future of sea level rise. Plainly put, king tides flood low-lying areas that someday will be underwater all the time. They help us jump cut across geological time to experience the consequences of our actions, and to perhaps (we hope) make different choices.
As artists, we know each other from our work in the theatre. I am a choreographer whose work is about place. Mary's work offers reveries on presence. As a media artist, Ian is particularly interested in embodiment across real and mediated dimensions. Lauren's work as an environmental and installation artist grapples with climate change in tactile, poetic pattern, but also to change a relationship, much the way that natural disasters galvanise our humanity for better and worse. [ ]
We share a sense of grief about what is already lost to climate change. We also share hope for the future. Our work together as artists is to transform future possibilities by asking questions that enable us to fully inhabit the now."
---
Water Forms – Great Sandy Strait; Jolian Solomon and collaborators. (2014) Australia.
This was also presented at Water Views: Caring and Daring; Waterwheel World Water Day Symposium 2014, and it is in its published form. Here.
"In collaboration with dancer Roseanna Anderson, guitarist Chris Glassfield and saxophonist Chris Scott-Francis, the collaborative piece "Water Form' was presented using video taken by Jolian Solomon in the Great Sandy Straight Queensland, filmed during different seasons and weather conditions. It was accompanied by two musicians and a dancer, improvising their response to the images of tidal water movement.
A video of the 17 minute presentation is here.
Jolian Solomon has spent time living in both the UK and Australia, mostly in rural or remote areas and living in close contact with nature. An essential part of Jolian's work involves spending solitary time in wilderness areas
During the past decade her work has undergone a transition from 2D and 3D pieces to collaborative multi-media projects. Her works include installation combining sound and movement, installation and performance, building blocks of her work are earth, rock, water, wind, movement, sound, natural cycles and rhythms. Jolian has collaborated with naturalists and ornithologists, in the creation of installations and performances for regional festivals and events. She runs an ongoing program of art camping trips with students and areas in both the UK and Australia.
Video imagery of tidal waters of the Great Sandy Strait, Queensland.
http://water-wheel.net/media_items/view/3993
http://water-wheel.net/media_items/view/4063
ttp://water-wheel.net/media_items/view/40
---
Spring Tides Archipelago; Fern Thomas; Wales and Portugal
'In Portugal, all along the coast of Wales, and on some parts of the coast of Brittany, a belief is said to prevail that people are born when the tide comes in, and die when it goes out.'
James George Frazer, The Golden Bough, 1890
A commission by Expermentica, Chapter Arts Centre Live Art Festival, 2018. This was a spoken word/performance which created an imaginary archipelago, a land that exists in myth, folkloric research, scientific fact, observed phenomena and the cult of the moon.
See artist website here
---
"TIDAL INTERFACE + MARSH INTERFACE: Tanja Thorjussen; 2013.
Made for the Kjerringøy Land Art Biennale 2013
See artist website and artist bio here
"TIDAL INTERFACE + MARSH INTERFACE
Interface (Eng.) [n. in-ter-feys; v. in-ter-feys, in-ter-feys] noun.
a surface regarded as the common boundary of two bodies, spaces, or phases.
a common boundary or interconnection between systems, equipment, concepts, or human beings.
a thing or circumstance that enables separate and sometimes incompatible elements to coordinate effectively
In this project we used the liminal area in which high tide and low tide interacts. In high tide Tidal Interface is covered by water, in low tide it becomes a place where people can sit and interact with each other or with the spectacular nature. The stone circle is created for the elements air and water.
Marsh Interface is created with the intention of subtracting and opening up rather than adding and building in space.
The stone circle and the marsh circle is equal in dimensions, however their function and form is to fulfilleach other. Both works are created by looking at and listening to the characteristic and spectacular nature of Nevelsfjorden at Kjerringøy."
Tidal Interface
Marsh Interface
"Marsh Interface" created by folding down marsh grass in the water.
More info and photos on the artist's website.
---
The Rising Tide; Jason deCaires Taylor; UK (London); 2015
From TotallyThames.Org website.
We like this – an artwork desription that has actual tide times in it!
"The first London commission of world-renowned underwater sculptor Jason deCaires Taylor, The Rising Tide, is concealed and revealed by the daily ebb and flow of the tide on the Vauxhall foreshore. These four proud horses and their riders highlight the role of the Thames as the lifeblood of London, shaping the city's great history as an ever evolving centre for culture, industry and commerce.
About the artist
Born in 1974 to an English father and Guyanese mother, Taylor grew up in Europe and Asia, where he spent much of his early childhood exploring the coral reefs of Malaysia. Educated in the South East of England, Taylor graduated from the London Institute of Arts in 1998 with a BA Honours in Sculpture and went on to become a fully qualified diving instructor and underwater naturalist. Taylor is also an award winning underwater photographer, famous for his dramatic images, which capture the metamorphosing effects of the ocean on his evolving sculptures.
In 2006, Taylor founded and created the world's first underwater sculpture park, situated off the west coast of Grenada in the West Indies it is now listed as one of the Top 25 Wonders of the World by National Geographic. In 2009 he co-founded MUSA (Museo Subacuático de Arte), a monumental museum with a collection of over 500 of his sculptural works, submerged off the coast of Cancun, Mexico.
Taylor's pioneering public art projects are not only examples of successful marine conservation but works of art that seek to encourage environmental awareness, instigate social change and develop an appreciation of the breath-taking natural beauty of the underwater world.
Approximate low tide times:
Tue 1 (11.45am); Wed 2 (12.30pm); Thur 3 (1pm); Fri 4 (1.30pm); Sat 5 (2pm); Sun 6 (2.45pm); Mon 7 (3.45pm); Tue 8 (5pm); Wed 9 (6.45pm); Thur 10 (8pm); Fri 11 (8.15am); Sat 12 (9am); Sun 13 (9.45am); Mon 14 (10.15am); Tue 15 (11am); Wed 16 (11.15am); Thur 17 (11.45am); Fri 18 (12.15pm); Sat 19 (12.45pm); Sun 20 (1.15pm); Mon 21 (1.30pm); Tue 22 (2.15pm); Wed 23 (3.30pm); Thur 24 (5.45pm); Fri 25 (7pm); Sat 26 (7.30am); Sun 27 (8.45am); Mon 28 (9.45am); Tue 29 (10.30am); Wed 30 (11.15am)
The Rising Tide is a commission for Totally Thames 2015. The project is supported by the Nine Elms Vauxhall Partnership, Vauxhall One and Lumina Prime 8 Ltd"
Video
---
---
Tide Marks; Alice Fox; UK; 2013-2014
From Alice Fox website
"Tide Marks was the result of an on-going pre-occupation with the places where land meets sea. For an artist the beach and its hinterland can be the richest source of experience and discovery. Daily it collects treasures and detritus by turn. What I find and work with often carries an identity and history we can only guess at. An object comes my way, with the tide, with the mystery of the movement of wind, sea and sand, or simply the consequence of human negligence.
What appeared in this series of contemplative art works on paper and fabric carries an essence of the coastal landscapes they embody. Marks were made on fabric directly from found items. Impressions were made on paper like imprints in wet sand. Subtle layers of texture were built up by applying a diversity of printmaking and mark-making techniques. Rust prints and collagraph join with the contoured flow of hand-stitched or woven yarns. Using seawater and tea as agents, objects gathered on the beach were allowed to make their mark. Hand stitch added in response to those marks references the way beach material is collected and moved by the action of the waves.
A published book accompanied the exhibition and is available to buy here.
Tide Marks toured between October 2013 and September 2014 and was supported using public funding by the National Lottery through Arts Council England."
---
Various artworks; Carolyn Black; Severn Estuary / River; England (UK).
Carolyn Black is an artist living and working in the village on Newnham-on-Severn, located right of the banks of the upper Severn Estuary. She makes a range of work inspired by the river and the ever changing tides.
This includes a series of drawings of the river now published as a book. See here
And various films and montages on her YouTube Channel here
Here is a recent film of the Severn Bore – with great sound!
Here is a short experimental video of rising tide.
See Carolyn's artist website here.
---
Land Radius, Laura Dunkers, Scotland (UK) 2014.
Extract from Laura Dunkers PhD: 'Deploying collaborative artistic co-creative methods to strategically promote ecosocial regeneration for small island communities.' 2020 (pages 21- 23).
This describes a tide related art project, and the development of Laura's practice.
'Land Radius, 2014 was a durational video work that captured the annual emergence of Sea Pinks (Armeria Maritima) on a salt marsh near my home in North Uist.'
'My personal experience of transforming my artistic focus from an environmental to a more socially directed art practice happened while completing work for the Master of Fine Arts Art, Society, Publics12 in 2014, subsequently leading onto ideas for this PhD. Land Radius, 201413 was a durational video work that captured the annual emergence of Sea Pinks (Armeria Maritima) on a salt marsh near my home in North Uist. This was a phenomenon I had witnessed taking place each June for around 25 years. The fact that these delicate flowers could exist at all in such a challenging location fascinated me, but also visually transformed this otherwise unremarkable piece of apparently 'valueless' land. I settled on the idea of using a trail camera that could sit in the landscape for as long as necessary to capture the process. Additionally, from their tracks, I knew that deer frequented this area and that they would potentially come to feature in the video too. Another element present in the salt marsh was water, and the fact that the land got flooded by the adjacent sea loch. I sought to capture the effect of this by anchoring a 10-meter diameter ring of blue water pipe in the centre of the frame that would start to float as the tide came in each day.
The camera was set to record 1min-long video sequences at several fixed times a day, and a motion sensor would activate recording of any additional activity throughout the 2-month duration. As expected, the sea pinks emerged giving a spectacular show. The deer presence turned out to be much greater than I had expected and charmingly animated the scenes along with other species who were picked up by the camera's sensor, such as geese and otters. The land, however, only ever flooded on two occasions in this period of filming. I didn't understand why this was and was disappointed. Yet, this was also the moment when my real engagement began.
I had taken it for granted that I knew what happened each day, but I now started to question my own assumptions, and realised that there was clearly something else going on that I knew very little about. I went on to have discussions with many people who could tell me more about the occurrences happening here on this tiny piece of common land. I spoke with crofters about the impact of the deer numbers, and also about the heritage of land stewardship; bird wardens could explain about the rising geese numbers and the need for culling; I asked a physics teacher to tell me about the tides and the moon but learned instead about gravity. In the end, however, it was a ferryman who could best explain to me why the land only flooded once a month. He spoke about the sea in a way I had never heard before. He described how the shape of the land affected the height of the tide and the currents. And how vast seas were moved by gravity and lunar cycles. His ability to convey his physical understanding was extraordinary to experience, yet it came from his ordinary, daily lived, physical knowledge of working on that body of water.
I had experienced a private revelation into the value of this microcosm from which to observe and question how best to bring out and feature this local knowledge that was so vital to the community. This form of knowledge is relational and a very different kind to that of the physics teacher. It resides intangibly in relation to Others. It is interactive and entangled within the giant, living, breathing whole. Science artificially separates out aspects and studies, measures and authenticates them, in an effort to explain and understand the world. But the more tacit, nondiscursive, silent knowledge such as that of the ferryman is used for the access it provides for his livelihood. He knows through what he can do and how he can act relationally within the whole.'
The full PhD,conducted at University of Dundee, can be found here as a pdf. (Supervisors: Professor Mary Modeen, Dr Iain Biggs
Further info from Laura by email. (Thanks).
"Land Radius is 9 hours long, each hour section is on a Blu-ray disc and was shown a-disc-a-day over the course of a 9-day exhibition."
'I have put a small section up on vimeo [link below] to give a flavour of the work, which starts with some of the ferryman's dialogue and then crosses over to the crofter's thoughts on deer https://vimeo.com/168855268 The video/audio work was accompanied by a book of transcribed testimonies, Land Radius Fugue, https://www.blurb.co.uk/books/5483733-land-radius where you can read the full interview with Misty Macnab, the ferryman. My recorded thoughts are at the beginning of the book, before I had started to make the video recording, when I still thought the land flooded everyday.'
Images
Figure 1 1 Land Radius, 2014, sculpture/video site, North Uist
Figure 1 2 Land Radius, 2014 (video still)
Figure 1 3 Land Radius, 2014 (video still)
The Blurb Book of the project is available here.
The short film on Vimeo here
---
Estuary; Susi Arnott; UK, 2017
A time lapse film of the tide in the Camel Estuary, UK. The film, and inforamtion about the project it is part of, can bee seen here.
See below for other work by Susi Arnott, and also The Tidal Thames; Susi Arnott and Crispin Hughes; London 2016.
---
Slimewatch I and II; Susi Arnott; UK, 2019
Two more time lapse films
'Slimewatch I: Moon & mud'. 4'59"; Susi Arnott, 2019
'Slimewatch II: Mud & microbes', 8'50". Susi Arnott/Dain Son, 2019
See here for both films and details thereof
See above for other work by Susi Arnott, and also The Tidal Thames; Susi Arnott and Crispin Hughes; London 2016.
---
Circle of Tides: An Act Against Erasure. Heather Green; Mexico; 2008
This is an older work by artist Heather Green who continues to do wonderful work about this area and various aspects of it culture, flora and fauna, and tides!
Steel, glass, mixed-media, oil on panel, linotype, letterpress
From the Project Statement
"La Cholla, a headland near Puerto Peñasco, Mexico, has one of the largest tides in North America, spanning over 26 vertical feet during spring and neap tides. The semi-diurnal rhythm of the tide completely empties the bay and exposes the thriving diversity of life in the rocky reef and tidal flats, then hours later erases any trace of the organic texture, replacing it with a vast expanse of blue.
The tide's game of revealing and concealing influences how we interact with the landscape at any given moment and can be seen as a metaphor for our own cycles of contemplation. The recurring phenomenon of shallows and depths mirror our own awareness—what lies beyond our visible terrain, whether it be other species, natural phenomenon or our cultural past, goes in and out of focus as it presents itself to us or slips from view.
Like the tide, much of the natural and cultural history of La Cholla lies nascent—the artifacts and written history of the indigenous people who visited La Cholla, a plethora of biodiversity within five distinguishable habitats, and the published research that has been conducted in the natural sciences are either obscured by the subtle textures of the physical surroundings or safeguarded in distant university libraries. The chapters of La Cholla's history are liminal; they exist in a scattering of publications or cast as fossils in the local bedrock."
See more here inclusing full project statement, photographs and video.
---
Walking the Tide. A large scale dynamic participatory performance event celebrating coast and community. By Jo Hodges in collaboration with Florencia Garcia Chafuen. Scotland; UK. 2013.
Thanks to Jo Hodges of artist partnership Coleman and Hodges for sending this in to us.
From the artists' website
"Walking the Tide created a large scale performance piece with 140 participants moving in a choreographed procession from the mainland at Kipford, Dumfries and Galloway to Rough Island across the causeway that is revealed at low tide, marking and linking the two.
Once at the island, participants performed choreographed moves along the shoreline to site-specific sound pieces and then walked to the highest point of the island where they sang a piece taught by composer Ali Burns before processing back to the mainland as the tide returned to cover the causeway.
This work explored the tide and the dynamic seascape through site specific, human intervention. It connected people to elemental dynamics; to tide, wind, sea and land and explored the space between the tides in the estuary, forming a human link between land and island. It created an opportunity for people to participate in a site-specific performative event, creating a collective community experience that had its own flow and dynamic that responded and reacted to the elemental ebb and flow.
Voice work by Ali Burns
Commission Making the Most of the Coast. Sept 2013."
For more info and images see the artist's website.
---
Tides, Sound Installation; by Margarethe Kölmel; East Sussex (UK), 2018.
This is part of a wider of body of work on tides and landscapes such as the Wadden Sea.
There is a film and some great drawings relating to rhythm on Margarethe's blog.
From the blog
"Background
The reason and mechanisms of the tides are not at all obvious to the human spectator.
The installation Tides aims to provide an experiential platform wherein – in an intuitive way – to discover and connect the invisible powers that drive our world.
Our globe is compound of many different materials that respond and react to each other in sympathetic or opposing ways. Some of the most profound and important natural phenomena arise not only because the components of the Earth interact. They are influenced by elements of the Universe who interact with each other to evolve and sustain life on Earth.
The Moon and the Sun interact with the Earth in a way that the tides arise. They infuse movement into the Earth. The tides might have been an important factor in evolution creating various and numerous different biotopes and habitats for species to develop. People who have grown up by the sea where the tides are present and prominent will attest to the deep connection with this rhythm that – more in earlier times than now – influences daily life and paces time."
From the About Page
"Reality is, for most people, foremost connected to things we can see and then things we can experience. Things we hear or feel are considerably less tangible, and we are not as conscious about them.
Margarethe's work tries to connect with the space, the things, behind and in between. It is about the things that are not visible. The invisible might be about scientifically proven forces of nature like the astronomical forces behind the tides. They might be emotions about a place or the way a person connects to nature. Or they might be considered purely spiritual in nature, as angels."
See a film of the installation on Vimeo here
---
A series of tide related artworks by Stacy Levy. 1993 – 2019.
Information originally supplied by Abby Minor. Thanks.
Eco-artist Stacy Levy works within a whole range of natural, and watety, rivery settings, with a particular focus on tides in many instances. And a concern of climate change and other environmental issues.
See here for main website
See here for tide projects which often focus on tidal urban rivers in the US.
These include
River Rooms; "The fisherman on the river all know how an afternoon of watching the river flow can refresh the spirit. River Rooms gives visitors and neighbors a place to sit and contemplate the river— without baiting a hook." Part of Art @ Bartrams Garden With Mural Arts Philadelphia Supported by the William Penn Foundation In concert with Tide Field.
Tide Field; "A tide-responsive floating installation draws attention to "nature's clock" on the shores of Philadelphia's Bartram's Garden." Part of Art @ Bartrams Garden With Mural Arts Philadelphia.
Here is a 2018 film of Tide Field
Tide Poles; "The eternal rhythm of the tide rises and falls against the hard edge of the city." Pier on the Hudson River, Yonkers New York 2007.
Lay Lines; "Lay Lines shows the elements at work on eroding the granite coast of Maine." Haystack Mountain School of Crafts, Deer Isle, ME, 2006.
Tide Flowers; "Connecting urban life to the daily schedule of nature, these brilliantly colored flowers bloom at high tide and close at low tide." Hudson River Piers 26 and 25, New York, 2006.
Confluences: Flow of The Schuylkill; "A Tidal Park: terraced basins fill and recede to the pulse of the tide." Schuylkill River Park, Fairmount Park, Philadelphia, Pennsylvania; 2002.
A Month of Tides; "An organza fabric 60-foot-tall blue tube recreates the sea's tide in the core of the Miami Dade Community College." Atrium of the Miami Dade Community College, Miami, Florida; 1993.
---
SERPENT D'OCÉAN; by Huang Yong Ping; 2012; Loire Estuary, France
This is one of a number of large public art sculptures placed in the river Loire Estuary. This is placed in the intertidal zone and the effects of the tide on the sculpture can be seen in the film below.
Part of Estuarie
"A collection of contemporary art works in Nantes, Saint-Nazaire and on the banks of the Loire estuary, to discover all year long on foot, by bike, by car but also by cruise."
---
Tidal Iterations 3; a string quartet written by Richard Hughes; Severn Estuary, UK; (2019).
Tidal Iterations 3, a string quartet written by Richard Hughes, played by Freya Nettlesmith, Leonora Cherniavsky, Size Pole and Kate Fraser, is informed by the tidal movements of water in estuaries. To be performed on Clevedon Pier, Oct 13th 2019.
Facebook Event and pictures here
---
Tidal Timespace and the Palimpsests of Bahía Adair, by Heather Green, Gulf of California, US, (2019).
From the project website.
"Description of the audio/visual work:
This mixed-media installation will consist of a series of 9 plaster casts that float on steel pedestals and capture some of the patterns and scripts made from the diverse mudflat textures left at low tide. A sequence of oil paintings hang on the wall, depicting an aerial view of a tidal sequence in the same scale and sizes as the casts. These portray the tide slowly coming back in and covering the mudflats. The sequence starts with intricate moiré patterns in shallow water and slowly gets greener, bluer, ending with a panel that shows the opaque surface of deep water.
An audience-operated tide machine revolving around multiple spools will display a year of tides as a letterpressed marigram4 depicting the arcs and dips of the daily tidal highs and lows. Seen as a linear tape, the tidal graph closely resembles an electrocardiogram—as if the monthly and yearly tides are in fact the moon's heartbeat.
The audience will also be able to page through a hand printed artist book revealing blind debossed prints of the marks and inscriptions in the mudflats and the landscapes overwritten or erased. These will have a bilingual list of terms in the two native languages of each site (English/Spanish, English/Welch, English/French), combining fragments from historical texts, scientific papers, local vernacular names, lists of species, and relevant terms as a kind of meditation on place.
Finally, I'm collaborating with musician Michael Henderson on an audio component that will interpret data collected (seawater salinity, temperature, tidal range, expanse and speed, sediment composition, and dominant species) into an ambient soundscape that will fill the space, and allow the visitor to hear each site's unique tidal conditions and qualities."
Project Statement (opening paragraph only).
Esturine landscapes are incredibly vital ecosystems: providing feeding and nesting areas for migratory birds, serving as a nursery for many important fisheries, and protecting coasts from erosion, to name a few. Because of their strategic positions that offer sites for bridges, harbors and industry, these landscapes are also impacted by human development, waste and destruction. Because of their fine sediment, they are much slower to flush wastes and toxins than sandier substrata making them quite susceptible, even fragile.
Source and full text here
Images here
More about Heather Green, who is Assistant Professor, School of Art, Herberger Institute for Design and the Arts at Arizona State University here
---
Rivers and Tides; Film by Thomas Riedelsheimer about the Artist Andy Goldsworthy
This is a film about the work of land/eco artist Andy Goldsworthy by Thomas Riedelsheimer released in 2002.
The film is about Goldsworthy's work generally, but tide affected work features, and tides and rivers, are key themes in relation to time in the artworks,
more info and links here
---
Tidal Landscapes Event, Bristol UK 2018
A night exploring the shifting and cyclical nature of tidal landscapes through music, installation and sound.
By artists Luci Gorell Barnes, Alex Goodman, Richard Hughes and Yas Clarke. Luci Gorell Barnes will be showing Tidal Village – an emerging piece of work with ideas and images about flooding and loss that I am exploring on the high tides of the Severn Estuary.
---
Wrecked. film, UK, Author unknown as yet
Click on image to go to site
---
Drift. Composition by Richard Hughes, (2018)
Performed by Trio Atem who play Drift for the first time in a workshop setting. Trio Atem are: flutes, Gavin Osborn, Mezzo Soprano – Nina Whiteman, Cello – Alice Purton.
The composer says:
Watching the tides in the Severn rise, turn and fall fascinated me. I was moved by the contrasting flows and rhythms of the water. I could see the current of the tide coming in from the Bristol Channel whilst the constant stream of the river flowed downstream on its way to the sea. As the river reaches its fullest height, the flow of the water upstream gradually diminishes and this channel of moving water slows and becomes thinner. The flow of the river, in the opposite direction of course, remains constant. This flow continues to decrease and slows down until the water on the surface of the river seems to lose all sense of direction. The water appears to loose its purpose like the feeling just before an eclipse of stillness and silence… Then, gradually the water starts to flow in the other direction, downstream. Imperceptively at first, then gaining momentum as the full weight of the river pushes this huge body of water seawards. I wanted to reflect this in the music I was writing. I focused on the different and contrasting flows and rhythms moving across one another, writing phrases that would constantly move against and past each other. I did this by writing four bar phrases that would exist simultaneously alongside passages that are five bars long. These phrases modulate over a number of repetitions, for example the five bar phrase falling chromatically four times. The phrases therefore, come back in synch more than 100 bars later. These contrasting parts were then split across instruments so that the sum of the parts still adhered in some way to this original idea but crossed across instrumentation. James Saunders suggested I could find a different way to determine when the performers played their parts and I liked this idea and mulled over it for a time. I had been looking at the tide charts so I knew when to visit to watch a turning tide. However I then became interested in the way that the tide cycle is never exactly twenty four hours but always slightly longer or shorter, and I wondered about how tide and time move across each other. I imagined a piece where time, in this case a 24-hour cycle acted as the meter. I made a graphic representation of the 24-hour and superimposed the tide chart onto it. I decided that the cello could play the undulating line described by the tide map. I then thought that there should be n aural equivalent of the change of time/light. I made an electronic sine wave with a cycle time of one minute (to represent 24 hours) making the piece seven minutes long representing a week. I decided that the piece would inhabit a very small tonal range – between G and D flat within the treble clef lines. Because every curve changes slightly, the differences therefore would be microtonal. I wondered what this would do to our perception of these changes over the seven minutes, and whether they would become larger in our consciousnesses. The flute and the singer would provide the surface disruption; the rhythms of the river's surface and the play of light on the water. At first I imagined them playing written lines at the height and depth of the river height and that I would write them at a length where they would somehow cross but I could not find a way of doing it, and I then questioned the value of this idea and let it go. The surface disruption is at the same height as the tide level and James also suggested that the disruption could relate to the curve which describes the tide times and heights, so the instruction was then to add surface disruption to this line. At any point, a phrase would start at the note that the curve describes and then move away from this line, but the next phrase would start at the curve again. Notes would be longer and quieter at the highest and lowest points of the curve and shorter and more 'excited' where the line is steepest (where the force and speed of water is greatest). These parts would also necessarily be microtonal given that the overall range of the piece is so tiny. As a performance note, I sent the musicians a video of the surface of the river. When I was explaining this process to a friend he said, "It's almost as if the tide is playing itself."
---
"Tidal Village" This is exploratory work by Luci Gorell Barnes at Purton; Mid-Severn Estuary – high tide; 23 09 2017
"We walk along the narrow path edged with blackthorn down to the water's edge. The tide is coming in fast and I quickly chose a place to site my 3 houses. I like working with the stuff of childhood and am reminded of playing by the pond when I was little, but this water has a current that sweeps in with enormous force. The smallest house is picked up and carried to the end of its anchor line. The two taller houses capsize, and I make notes for moderations and useful things to bring next time – like a spare memory card for my camera and a long stick.
I think about flooding, about Bangladesh and how we may all end up being sucked into the rising tides. I remember the cut paper dolls in the bottom of my basket and drift them into the water, which is already starting to recede. My houses come to rest back on the mud and I pick them up by their anchor lines and carry them up to the car. We go to the pub for cider and crisps, and sit looking out across the estuary where water and land shift so fast they seem interchangeable."
---
Tidesongs by Hanna Tuulikki, Lucy Duncombe and Alec Finlay; Uk; 2017
---
'On the night of February 5'. Victoria Eden; Morcambe Bay; UK; 2014?? ongoing
"Cumbrian ceramic artist Victoria Eden has produced a piece of work called 'On the night of February 5'. This consists of 23 ceramic forms each constructed from red earthenware clay moulded on to individual plaster casts taken from the ripples and depressions in the sands of Morecambe Bay. Each piece represents one of the lost Chinese cockle pickers and uses screenprinted quotations from press reports to highlight the issues of migration, loss and modern slavery." Source and more info
here
See a slide show of images
here
Photography Victoria Eden. Artist website
here
Here is a video
---
As stated above – the numbering here is a bit imprecise, but if this next entry is number 50 it is appropriate because it is so wonderful. We are shocked this was not known to us before!
---
FireStacks; Julie Brook; Jura, Scotland; 2016 and 1992 – 1994
Firestack, high tide.
Jura, West coast [ 160cm x 140cm ] Julie Brook. See
here
for source and more photos
See here for short film and text about the Firestacks on BBC TV
---
Two Take a Moment; Farah Allibhai; 2016?
A performance art film. Very lovely (we think). Needs to be watched on Vimeo
Two Take a Moment from Farah Allibhai on Vimeo.
Thanks to Debora Haguirre Jones for alert on this
---
7RN/Bore. Richard Tarr; 2016
A series of photographic portraits of the Severn Bore surfing community, and some landscape shots of the tidal river. Here
---
Tide; Wolfgang Buttress;Brisbane; Australia; 2015.
"This is a simple idea. Playing with ideas of micro and macro Tide expresses the flow and ebb of the Brisbane River. The sculpture engages on an intimate level and from afar."
Source and more info here
Wolfgang Buttress; image from 'Tide' – here
---
The Tidal Thames; Susi Arnott and Crispin Hughes; London 2016
"A large-scale, 5-screen projected installation, created along the tidal Thames in central London.
Twice a day, the Thames rises many metres to fill secret, enclosed spaces in central London.
Cameras and stereo microphones, held under wharves, jetties and office-blocks, recorded four distinct audio films. Starting slowly, the water rises inexorably to take and drown each camera in the confined space of its man-made, built environment; stereo sounds of traffic, birds, humans and boat-wash are replaced by burbling inundation and the buzz of propellers. The films are not 'in synch'; the chaos of their rhythms means nobody walks into the same exhibition twice…
In silent accompaniment, and from dry vantage-points looking E, S, W and N, 'The Moon and the City' shows the tides falling, rising, falling and rising again as if in a single day – and in relation to the rising, passing and setting moon."
Artists Susi Arnott and Crispin Hughes are both experienced UK scuba divers with a particular scientific and imaginative interest in the effects of tides in enclosed spaces. Their previous collaborative works include Unquiet Thames and Stone Hole.
The above from the project website
here
---
The Estuary Festival; Thames Estuary; UK; 2021 and 2016
This were large, impressive looking multifaceted festivals celebrating the Thames Estuary and it landscapes and cultures. Both have now ended but lots of great info, images and links are on the websites.
Link to the 2021 programme here
Link to the 2016 programme here
Here is a map of the festival locations. The links are not live!!
---
Sea Empress Tide Edition
SEA EMPRESS is a publication produced in association with the 'Sea Empress' Project hosted by the Reading Room in Manorbier, Pembrokeshire. This is edition one of a series including Tide, Deep Time, Animism and Memory.
---
Ron Haselden-Sea Life-2016
Film on Vimeo of a tidal art installation
Lors du festival de l'estran sur la côte de granit rose, Ron Haselden a réalisé une sculpture sur la plage de Toul Gwen à l'ïle Grade sur la commune de Pleuleur-Bodou. Une algue ramassée non loin est à l'origine de sa forme . La sculpture s'est déroulée en un ruban ondulant de 25m, se couvrant et se découvrant au gré des marées . Je l'ai filmée en priorité quand elle était sous la surface de la mer , et pas directement visible par les visiteurs.
Has to be watched on Vimeo
---
---
Drie Streken Oerol; Holland; 2016; Marc Van Vliet

Marc Van Vliet has installed a wooden structure in the north of the netherlands called 'de streken' that changes with the tides. placed in the center of zeven streken (seven illuminated points of the compass), observers find themselves in the middle of a large entity that occupies the landscape out as far as the horizon. with each passing hour of the day, the project reveals different aspects of its sand flats location, that serves as a meeting location illuminated by the sun.
Text and images from here
---
Flood House; 2016; UK (Link to creator team below)

"Flood House is a prototype structure that is both a practical and poetic investigation into the living conditions of a seasonally flooded landscape. It will function as part projected future dwelling and part practical laboratory, monitoring the very particular weather conditions of the Thames Estuary in southeast England.
The design of Flood House references the architecture of the Estuary including fishing sheds, WWII pillboxes, bunkers and Maunsell naval sea forts. It measures 5.5 metres by 7.5 metres, is fabricated in ply and weatherboard, and floats on three steel pontoons.
The structure will be moored at various sites in the Estuary in April and May 2016 and will drift from mudflat to mudflat as if in a future flooded landscape.
Matthew Butcher, designer and tutor at the Bartlett School of Architecture, UCL, has designed Flood House. The project was conceived in collaboration with Dr Rokia Raslan and Dr Jonathon Taylor at the UCL Institute for Environmental Design and Engineering (IEDE) and was funded through an award from the UCL Bartlett Faculty of the Built Environment Materialisation Grant Programme. Matthew is working with independent curator Jes Fernie and Focal Point Gallery in Southend on a programme of commissions and public events developed in response to the project.
Flood House is part of the Radical Essex programme which aims to re-examine the history of Essex in relation to radicalism in thought, lifestyle, politics and architecture. Led by Focal Point Gallery in partnership with Visit Essex and Firstsite, events will take place across the county in 2016 and 2017."
Source of above, creator credits, and more info here
---
---
Tidal Well; Tim Collins; California US; Date??
http://collinsandgoto.com/artwork/tidal-well/
---
---
Another Place; Antony Gormley; Crosby UK; 1997.

http://www.antonygormley.com/sculpture/item-view/id/230#p0
---
From Across the Water / Body of Water; Louisa Fairclough; Severn Estuary/River UK; 2010-11.
Sound recording based film sculptures

See http://www.ucl.ac.uk/slade/fairclough/archive/body-of-water
From the website
"Often at the time of the full moon, with my young son in tow, I cycle to the Severn to pitch the tent on the river bank. A tidal river, the Severn is strangely compelling: as we stand at the edge of the river listening to the roar of the oncoming tide rushing in from the sea, I am (in my head) shouting across the river into the night. The tide carrying with it my grief to the river's source before being pulled out to sea.
The following body of work uses ground, tidal water, voice and light as material, and take the form of film loops, field recordings and drawings."
---
No 4 a & b. Bore Song / Song of Grief; Louisa Fairclough; Severn Estuary/River UK; 2010-11.
Sound recordings, voice and film installations

Song of Grief http://www.ucl.ac.uk/slade/fairclough/archive/song-of-grief
Installations at Danielle Arnaud, 2011
---
Tidal Workings; Antony Lyons; Bristol UK;

Antony is an eco-artist with a background as an environmental/water scientist and landscape architect. He is based in Bristol and is an associate of the PLaCE Research Centre. Working in the field of environmental policy and planning, he specialised in sustainable drainage and ecological design. His creative involvement with the Severn Estuary area has largely centered on the tidal River Avon and Bristol's harbour zone. He has also carried out water-related projects on the North Somerset coast and – most recently – on the tidal River Torridge in North Devon.
Current artistic research interests that relate to the Severn Estuary include explorations of 'dammed/drowned landscapes' (reservoir and barrage sites), and coastal 'salt landscapes' (current and past sites of sea-salt production).
In 2006, he founded the Bristol-based artist group, NOVA, to create a 'tide and time' sculptural trail around the harbour and tidal river in Bristol.

Other tidal River Avon projects include the production of sculptural and design features for the 'New Cut' section of the river, and long-term involvement with wetland restoration and pollution-control initiatives in the harbour.
Details of these and many other environment/art/landscape projects can be seen at:
Also on SEAA website
---
---
Sabrina Dreaming; Severn Estuary Tidelands UK; Antony Lyons; 2013-2015
A multi media project on the Severn Estuary and its tidal margins by Antony Lyons
See main website here
The Aust Goddess (figurine; replica). This Iron-age/early Roman bronze figurine was found around 1900 at the muddy coast of Aust, on the Severn Estuary near Bristol. Picture by Antony Lyons. See full blog post here.
---
Tide & Change in the River Medway UK;Stephen Turner; 1998
"In 1998 Turner produced a unique installation, entitled "Tide & Change in the River Medway" in an abandoned nautical fort, built last century on a salt marsh island in the middle of the Medway estuary in Kent.
Throughout August Stephen recorded the movements of the tides on huge canvas tarpaulins stretched across the riverbed at strategic positions around the water's edge. Then, over a complete cycle of the moon from September to October, he lived on the island and received visitors, carried over on boats as the tides allowed, to view the river-worked canvases hung on the ramparts of the fort."
Source and more information here.
---
---
Wooden Boulder; David Nash; Wales UK; 1978 – still going

This was not initially an intentional 'tidal art work', but the agencies of nature soon became active in the ongoing process of this piece, and tides ended up playing a very active role in its ongoing drama.
"David Nash's work Wooden Boulder is an ecological/elemental art work that incorporates natural rhythmic processes over time. An oak boulder, three feet in diameter, was created in the late 1970s. Partly by accident it got stuck in a mountain stream in Wales. From then on, at times when the stream was in spate, the boulder was occasionally moved down stream. The artist began to chart this progress. Eventually the boulder found it way into the tidal reaches of the estuary of the River Dwyryd. According to Deakin (2007: 163) the bolder began to,
"wander the waters of the estuary, mysteriously disappearing up creeks, endlessly doubling back on itself in the ebb and flow, moving with each new tide, responding to the moon []. Nash went searching for it in a boat and lost it all together for a while []. During those chilly winter days of hide-and-seek he studied the tides and pored over charts, mapping the uncertain voyage. Then one January day the great oak apple reappeared on a saltmarsh and seemed almost settled for a moment until that equinox tide of 19 March 2003 floated it free. Nash watched from the boat [] as the heavy sphere floated, most of its body submerged 'like a seal'. [] It was just a far off dot when he last saw it on 30th of March. Somebody sighted Wooden Boulder floating close to the estuary's mouth a few days later, but it vanished in April 2003."
THis is an extract from
Jones O. (2010) 'The Breath of the Moon': The Rhythmic and Affective Time-spaces of UK Tides, in T. Edensor (ed) Geographies of Rhythm, Oxford: Ashgate, pp 189-203.
More info and images here
Short video here
---
Tidal Culture; Deborah Wing-Sproul; North America and other Atlantic coastal locations; 2004.

Deborah Wing-Sproul is a multidisciplinary artist working primarily in video and performance. Her performances (or "performative acts") permeate the genres of sculpture/installation, drawing, photography and printmaking.
Tidal Culture is a long-term nomadic work (2004- ) using the Atlantic Ocean as a focal point and primary resource. Part I begins on the shorelines of Maine. The work continues in several countries bordering the North Atlantic Ocean: Newfoundland, Greenland, Iceland, and the Hebrides. These sites, because of their proximity to the arctic ice cap, have become grounds for observing climate change. I'm drawn to these landscapes for their character— sometimes austere, sometimes lush, often connoting isolation.
There are 10 web pages charting the progression of this work on different sites
The Introduction is here
---
---
Drift; Teri Rueb; Watten Sea Germany; 2004.

"Drift (2004) is a site-specific GPS-based sound installation set along the Wadden Sea in Northern Germany. Drift was commissioned by the Cuxhavener Kunstverein in Cuxhaven, Germany."
"The Watten Sea becomes a metaphor for hertzian space as visitors are invited to wander among layered currents of sand, sea and interactive sounds that drift with the tides, and with the shifting of satellites as they rise and set, introducing another kind of drift.
The installation covers a 2 km x 2 km region that is filled with areas of interactive sound. The region moves with the tide such that at low tide all the sounds are out on the Watt, at high tide they flood the town. Sounds play automatically as you wander through these interactive areas with a Pocket PC, GPS and headphones. The location of the areas changes constantly with the shifting tides – therefore, the best strategy for finding them is simply to wander."
Images and text from here
Film here
---
Threads; (Black Rock); Davina Kirkpatrick; Severn Estuary UK; 2013 – 2014.
UK based artist and academic Davina Kirkpatrick has tied the shredded shirts of her suddenly deceased partner, Chris, to fencing in an intertidal area, of the Severn Estuary, at a location called 'Back Rock', and these has slowly transformed over a year as they have been repeatedly washed by the tide, and rain, and blown by the wind. Subsequent visits to the site has been recorded in words, drawing and photographs as an ongoing body of work addressing mourning and remembrance.
A videod talk relating to this can be found here
A pdf of the talk here
---
The Breath of the Moon; Michaela Palmer (Owain Jones); Severn Estuary UK; 2010.
Sonification of Tidal Data at Avonmouth, 3:09 mins
The Breath of the Moon is a sonification of the tidal patterns at the Avonmouth Docks. The artefact follows these patterns for 12 hrs and 18 mins. During this time the tide goes out, reaches low tide, comes back in, reaches high tide and then recedes again. This tidal movement has been translated into sound and then, to make it more easily perceptible, contracted in time.
The composition itself is not a fixed arrangement of pre-recorded sounds, but a software program that arranges its sound samples live. Moreover, some sounds are also generated live. Combining these two processes means that – unlike the recording on this page – the real artefact sounds a little different each time it is played.
Listen here
This is part of a large UWE base project Sonic Severn
Sonic Severn has been developed by Michaela Palmer and Owain Jones, an interdisciplinary research team at the Universities of the West of England, and Bath Spa UK. Michaela and Owain work on the sonification of the extraordinary tidal rhythms of the Severn Estuary, in order to bring to public and political attention the very rich ecological and cultural heritages of this estuary, as well as the threats it faces.
Michaela is an Artist and Senior Lecturer in Digital Media. Her research interest span across play and interaction, physical (sensor-based) computing, sonification of complex processes, generative art and music, installation art, web design as well as multimedia authoring.
---
Tide; Luke Jerram; Bristol UK; 2001.
This was not about sea tides specifically but the gravitational force of the moon and resulting earth tides
"As the earth and moon move through space and time around the sun, our position also changes within this shifting triangle of spheres. Tide is a live installation controlled by this changing spatial relationship.
A gravity meter located in the gallery space measures the Earth tide, caused by the changing gravitational pull of the moon and sun on the Earth. This information is represented as a video projection showing a full 24 hours of altering gravity. Through the use of water pumps, the received data is also made to control water levels within each sculptural object. A friction device makes the glass of each sculpture resonate and sing (like rubbing a finger around the rim of a wine glass). The rise and fall of water levels over time from high to low tide changes the note produced by each singing sculpture.
Referencing the planets in movement and form, the resonating spheres of glass create a chorus of sounds which fill the gallery space. Being 'directed' live, these machines are altering their state with the change in Earth tide and the altering positions of the moon and Sun in relation to the gallery."
Film of Estonian installation of Tides here
---
Source; Anne Bevan; Orkney (Scotland); 2001.
A site specific installation in Stromness harbour, Orkney.
The idea was to make a constantly changing work that is seen and concealed by the rise and fall of the tide.
The cylinder is filled with water transported from Venice, like a test tube or a core sample, measuring and revealing the different waters, North with South. Apart from showing the potential beauty of water, the 'source' project raises issues concerning international communication and environmental implications of industry, energy and transportation. As a result, part of the project involved scientific analysis and tests of both waters.
Work made in collaboration with Italian based artist Matthew Broussard.
Installation with acrylic cylinder (300x 60cm), glass vessels, Venetian water, video projection, print of water analysis, wall drawing of map, galvanised bucket.
Commissioned by The Pier Arts Centre, Stromness as part of The Constant Moment – a project funded by the Scottish Arts Council Millennium Fund, Orkney Islands Council, The Henry Moore Foundation and Orkney Enterprise.
Photograph: Anne Bevan/ Michael Wolchove
See website here
---
Compositions for a Low Tide; Louisa Fairclough; Whitstable UK, 2014

performed by Rochester Cathedral Choristers Whitstable Biennale 2014
photograph by Bernard G. Mills
"As day turns to dusk, a group of choristers will walk out with a small group of people along the line of The Street, an ancient shingle spit that stretches out a mile out into the sea at low tide. As the group make their way out to the distal end of the spit and back, the choristers perform two works choreographed by the artist, their voices sometimes lost in the wind."
Scource: Whitstable Biennale 2014
---
Some:when – celebrating cohesion through the watery heritage of the Somerset Moors and Levels: Jethro Brice and Seila Fernandez Arconada; Somerset UK; 2014.

Some:when is a collaborative public art project conceived in response to the floods on the Somerset Moors and Levels. It is led by artists Jethro Brice and Seila Fernandez Arconada, together with individuals and community groups affected by the floods.
Flooding and water have been an inextricable part of Somerset's history, at the heart of both the pains and pleasures of life in a unique landscape. This landscape has been extensively managed and changed over the centuries, and with unstable weather patterns, rising seas and changing land use, new visions are being created for how this landscape might look for future generations. One proposal in particular looks at installing a sluice at the mouth of the Parrett to prevent the incursion of the tides, a move that will bring relief to many whilst also marking the end of a particular heritage – Langport was historically a busy trading post at the upper tidal limit of the river.
The aim of the project is to support and amplify the remarkable resilience of Somerset communities in responding creatively to the floods. Working with local groups in and around Langport, we will create a replica of the traditional Somerset Flatner from reclaimed materials, sourced in the immediate environment. Designed as a practical and affordable solution for navigating life in a changeable environment, this characteristic Somerset boat is an iconic local design that represents the centrality of both water and human ingenuity in shaping the history of life on the levels. Through creative, participatory workshops we will share and reflect on the stories of children and young people affected by the floods, and articulate a vision of Somerset's future that will be translated into a celebratory banner or sail for the Flatner. As a final event, local groups are invited to accompany the Flatner on a triumphant journey from Langport to Bridgwater on the outgoing tide.
For further information and to follow the development of the project, please visit www.some-when.org.uk
The project is made possible by the support of the Somerset Community Foundation and Somerset Art Works.
---
High-Slack-Low-Slack-High — a suite of site-responsive sound works inspired by the tidal range of the River Clyde in Glasgow; Glasgow International Festival of Visual Art; 2012. (various artists).
High-Slack-Low-Slack-High is a suite of five site-related sound works made in response to the tidal cycle of the River Clyde in Glasgow and presented as part of Glasgow International Festival of Visual Art.
Performances in public spaces in Glasgow:
Monday 23 April – Hanna Tuulikki – Bell's Bridge/Millenium Bridge, G51 – 3.15pm
Tuesday 24 April – John Cavanagh – Riverside Museum, G3 8RS – 3.45pm
Wednesday 25 April – Nichola Scrutton – Dixon Street, G1 4AL – 4.05pm
Thursday 26 April – Douglas Morland – Clyde north waterfront between Victoria and Glasgow Bridges, G5 – 4.45pm
Friday 27 April – Minty Donald/Nick Millar – Central Station – 5.25pm (and on city centre bus routes throughout the week)
Each work is anticipated to have a duration of 10-20 minutes.
High-Slack-Low-Slack-High is a suite of five site-related sound works made in response to the tidal cycle of the River Clyde in Glasgow and presented as part of Glasgow International Festival of Visual Art.
John Cavanagh, Minty Donald/Nick Millar, Douglas Morland, Nichola Scrutton and Hanna Tuulikki – a group of artists with shared, but diverse, interests in sound, space and place – have created audio works to be performed in public spaces close to or on the River Clyde over five days during the Festival (Monday 23rd – Friday 27th April 2012). Each performance is timed to coincide with high tide. In these citywide performances, the natural cadences and flux of the river, once significant in the tempo of Glasgow life, will again leak into the urban fabric.
On Saturday 28th April, all five works will be performed in the Trust Hall of Clydeport Authority Headquarters, an opulent, circular, Edwardian boardroom overlooking the Clyde. Here, the sonic interpretations of the river's tidal cycle will permeate a building that stands as symbol of Glasgow's maritime heritage.
The sound works are:
a vocal piece performed with megaphones, whose musical structure derives from tidal data
a work using sound samples recorded onboard Clyde-based vessels, including a nuclear submarine and a Dutch barge
a vocal tone poem accompanying a ritual dredging of river water, later used in a performance on musical glasses
a refrain of ships' horns interrupting the pulse of the city's transport network, greeting passengers as they boar or disembark bus or train
a piece for voice and 'signal' sounds that takes its temporal form from flashing navigation beacons on the Clyde.
'High-Slack-Low-Slack-High reflects on the functional and symbolic roles played by urban rivers in contemporary cities – and in particular, the role of the River Clyde in Glasgow today. It's common belief that, following the decline of shipbuilding and other maritime industries, Glasgow turned its back on the River. Now, while the riverbanks are undergoing significant regeneration, the water itself remains a relatively dead space. Through interweaving the natural cadences of the tide with contemporary urban rhythms, High-Slack-Low-Slack-High is an invitation to re-imagine the relationship between river and city – beyond the legacy of Glasgow's industrial and manufacturing past.'
Minty Donald
Perpetually rising and falling yet constrained within manmade embankments, detached from the city that once saw it as symbolic of its industrial prowess, the tidal river is taken as an invitation to reflect on ideas of change and continuity, nature and culture, in relation to the contemporary, post-industrial city. (From press release)
---
---
Benjamin Bray; Coasts; US; 2006
"Digital video is projected onto hung glass sculpture, and the accompanying sound is projected out from it from speakers mounted in the tails. The sculpture serves as the primary resonating body for the sound.
drawn in / cast out
tide in / tide out
plane in / plane out
intimacy with glass sculpture
singers for a community of machines that fly
There's a natural instinct to admire, but not touch glass. I'd like to motivate people to get closer to glass sculpture, to experience it unlike they normally do. There are things that you feel up close that you don't far away.
Aircraft landing and taking-off are coming from and going to many places, are of different shapes and sizes, and use different engines. They are like different birds with different bodies, different people with different bodies, different beings with different lifestyles and different voices, meeting at a venue with its own acoustics and sounds of activity."
Source and more images here
Thanks to Emma Hooper (University of Bath Spa UK) for this info.
---
Wrecked on the Intertidal Zone, a series of investigations into the Thames Estuary; YoHa; Paul Huxster; Andy Freeman; Matsuko Yokokoji ; Graham Harwood; Thames Estuary UK August 2014 – October 2015.
"The Thames estuary is a complex collection of objects, atmospheres and flows that cannot readily be reduced to scientific methods and models. The estuary is changing rapidly with new industrial infrastructure being constructed, such as the largest container port in the UK. The estuary's sea marshes, tidal flats and muddy waters are critical wilderness zones for biodiversity conservation and species migration. Simultaneously, they are also zones for leisure and tourism, fishing grounds and the sites of historic wrecks.
This exploratory project, led by YoHa and The Arts Catalyst, is involving a network of local people, together with artists and technologists, in exploring how local people's "situated" knowledge of the estuary can be combined with artistic investigations and citizen science techniques to explore and respond to a changing contested estuary together with its surrounding salt-marsh. By fostering an ecology of practices, Wrecked on the Intertidal Zone aims to generate a critical interest in the complex influences governing these delicate environments.
Through a series of participatory workshops, which began in Summer 2014, Wrecked on the Intertidal Zone will profile ways of structuring information from both situated knowledge (bird watchers, fisherman or mud-walkers) and verifiable methods (monitoring networks and ambient sensors), and will continue with further workshops and public realm art projects and artworks during 2015.
Participating artists include YoHa, Critical Art Ensemble and Andy Freeman."
Source of above and more info on project website here
---
Time and Tide Bell Project; Marcus Vergette; UK; 2009 >
A permanent installation of 12 bells around the U.K. rung by the sea at high tide.
"This project is to make a permanent installation of the Time and Tide Bell at the high tide mark at a number of diverse sites around the country, from urban centres to open stretches of coastline. The rise of the water at high tide moves the clapper to strike the bell. Played by the movement of the waves, the bell creates a varying, gentle, musical pattern. As the effect of global warming increases, the periods of bell strikes will become more and more frequent, and as the bell becomes submerged in the rising water the pitch will vary.
The first bell was installed in July 2009 at Appledore, Devon: the second on Bosta beach Gt. Bernera, Outer Hebrides in June 2010: the third at Trinity Buoy Wharf, London in September 2010: the fourth installed in Aberdyfi, Wales, July 2011."
Source of above, and more info, inc MP3s of chimes, here
---
Fast & Slow Time; Richard Forster; 2011; (UK)
Minima; 29 July 2011 – 18 November 2011
"An exhibition of 52 new drawings by North-East based British artist Richard Forster, in his first museum solo show. The drawings, completed over a calendar year, are a narrative that juxtaposes the shifting sea line at Saltburn-by-the Sea with the construction of pioneer social housing in eastern Germany.
A book containing a new short story by famous author Colm Toibin compliments the show.
Exhibition price £10.00."
rf-fast-slow-time-newweb
2011
Richard Forster & Col Tóibín
hardback book
25 x 17.7cm
The exhibition was curated in association with Ingleby Gallery Edinburgh"
Review
"Fast And Slow Time is a collection of more than 50 artworks by Richard Forster and is his first solo museum exhibition.
The show presents three series of painstakingly executed graphite drawings which circumnavigate the upper gallery – 52 in total – made over the course of one calendar year.
Opening and closing the exhibition, two sequences of 14 drawings titled The Incoming Seas Edge document the incoming tide on the shore of Saltburn over the course of a few minutes in one morning in January 2010.
Photographs taken at set intervals from the pier are the starting point for the artistic process
The third sequence of 24 drawings, titled Twenty Four Stills from archival video witnessed in Bauhaus, Dessau, January 5, 2010 is drawn from documentary footage of the construction of pioneering social housing in the former Weimar Republic of Germany, the Törten Estate in Dessau.
Forster has long been interested in the concept of Ostalgie, the curious nostalgia amongst former East German residents for life in the DDR – the German Democratic Republic – and these drawings come from a research visit made to the Bauhaus archive in early 2010.
Fast and Slow Time presents a series of fleeting, seemingly arbitrary moments which are in fact chosen within a precise set of parameters, and re-presented through a painstaking process. Taken together, these come to represent a reflection on the very nature and action of time and memory." (Scource).
---
Floodtide; John Eacott; 2014 – and running. (Thames River UK) and other locations.
(Updated 23 09 2020)
A video of a Floodtide performance and more information is here
Sonification of tidal flow
"Floodtide by John Eacott makes music from the movement of tidal water. A submerged sensor gathers information from the tidal flow that is converted into musical notation read from screens or mobile phones by musicians. In April 2014 we marked the installation of a permanent sensor at Trinity Buoy Wharf in Docklands, which allows live notation from the Thames to be streamed constantly from our website. Alongside this, the Floodtide Listening Post, a mechanical music machine made by sculptor Andrew Baldwin, is now installed permanently at Trinity Buoy Wharf, making the music audible to visitors. The piece has now been performed over 20 times at venues including Trinity Buoy Wharf, The Roundhouse, Royal Observatory Greenwich, Thames Festival, Southbank Centre and the Royal Shakespeare Company. Ensembles have included classical musicians, taiko drummers, and members of groups such as Tomorrow's Warriors and Voice Lab. A full performance of Floodtide lasts around 6 hours, starting at low water and ending at high water, although shorter versions have been staged. The piece is a kind of ambient work in which the audience may drift in and out of the music, returning later to see how it has changed. No performance of Floodtide is the same, with the music being constantly affected by environmental factors such as wind, air pressure, rain, and even passing boats. Floodtide is a sonification of tidal flow." (Source, more info, and take part here).
---
The Intertidal Cimema; London; 2014
Project Founder: Hannah Fasching
"London developed as a functioning port on the River Thames. As our infrastructure and industry move away from natural resources, how do we build new relationships with the natural environment.
Can the temporary spaces of the tidal Thames provide a unique space for social activity? The Intertidal Cinema attempts to transform the tidal beach of Deptford creek into a social space, transporting people back through the history of Deptford, told through a narrative of this unique place. Topographies of Deptford's historical past are projected onto various structures, transforming the creek into an immersive social space.
The film tells a narrative of place through a conversation with the architecture itself to create a portrait of the urban landscape through the sites connected to how Deptford developed as a Dock. The voices of Deptford are used to animate various sites, the physical space takes on the voice of the social.
The Intertidal cinema will take place as part of the London Design Festival from the 13th-15th of September 2014." (Source and more info here)
Off Twitter
Sedimentsonority; Michaela Palmer; Severn Estuary; 2012
"Sedimentsonority is an art project that aims to model some of the sediment movements in the Severn Estuary, UK, using sound.
Translating the tidal mix of salt and freshwater, dispensed solids and biomatter into sound is truly fascinating, as here processes of self-organization become audible. Discovering and reflecting on this can reveal deeper philosophical issues, such as our often-limited understanding of water processes, or of how the world around us organizes itself. Exploring sediment characteristics via sound can lead to a deeper understanding of tidal landscapes and the complex processes they adhere to.
Sound is a medium we readily immerse ourselves in. Although the movements of estuary muds could be easily visualized (see map below), this process removes the viewer from the object it aims to explore. Indeed, not many art projects about water place the viewer/listener actually inside it. Yet the immersive viewpoint is valuable, as it allows us to re-experience a place with our senses."
Develoiped and shown at Water : Image 4th – 6th July 2012 Conference to celebrate the 10th year of summer symposia organised by Land/Water and the Visual Arts Plymouth University, UK
Audio Player
More info inc more sounds here
---
Tidal Memory; Charles Sowers; San Francisco; 2013
"Using live data from the NOAA tide station near the Golden Gate Bridge, the twenty-four soaring columns in this exhibit display San Francisco Bay tide heights for the current day. As each hour ends, another column is locked off, preserving the tide height for that particular hour. Visitors can see the rising and falling tidal pattern—and contemplate the significance of the tides.
The tides create strong currents that move nearly one-fourth of the Bay's total water volume in and out with each tidal cycle. These cycles affect every living thing in the Bay, influencing feeding, breeding, and migratory behaviors." Source
Pic by Susan Spero source
(I think this now might be on permenant display at the San Francisco Exploratorium)
---
---
Soundings From The Estuary; Frank Watson; 2005 onwards; Thames Estuary; UK
Frank Watson
"Soundings From The Estuary is an ongoing project that is inspired by the Thames Estuary's industrial, architectural, and maritime past as well as the present threat to the existing terrain, from global warming and the expansion of London eastwards. The project since 2005 has incorporated the collecting of sound using ambient and spoken word pieces, photographs and video.
Since the inception of the project the Thames Estuary has become the focus of London's search for more air space and the prospect of another London Airport. The debate as to whether the Estuary is a suitable site embraces a range of interested parties from air traffic control to the protection of migrant bird life. Much of the Estuary is perceived as a brown field site lacking the traditional attributes of the picturesque. Prominent features include landfill sites, prisons, oil refineries and industrial debris left scattered along the river's foreshore, amongst which also lie industrial and military ruins. Yet despite its blighted public image, the Thames estuary does have a sense of place, albeit one that is dependent on the importance of the river itself and its relation to the history of the growth of London as a city. As London's urban sprawl extends eastwards, the estuary is now perceived as a potential space for building new towns and another London airport. However, this scenario conflicts with predictions of rising sea levels from global warming that would subject much of the low lying marshland of the area to flooding. The Thames Estuary is a contested landscape, with both naturalists and environmentalists seeking to preserve the existing terrain from the threats posed to its future.
The artists Frank Watson and Germander Speedwell have produced work that evokes an overlooked and disappearing landscape that is unique if not melancholic and deserves protection and conservation." Source and a lot more info here
A published book of this project is available from September 2014, comprising of 32 colour photographs with an accompanying essay by the writer, journalist and film-maker Jonathan Meades. See on our books about tides page
---
Estuart Lab: Wales (UK); Dyfi Esturary; concept by Jony Easterby
Llanw a thrai
Low Tide High Tide.
"Low tide at the mouth of the Dyfi estuary brings a no mans land of perfectly sculpted sand and water, full of latent energy transformation and life.
Great estuarine sands suck at your boots as you move out into the middle of the river, walking on water that will consume the land once again, as it did 13 hours ago and will again tomorrow and for ever as long as the moon circles the earth.
Canoeing across this great shifting river mouth looking for the illusive Flounder I become stranded and make way by foot. Clutching a homemade spear in hand with a friend by my side we walk around this newly uncovered land in a primal dream. A curious feeling of euphoria engulfs me, this is a new feeling, born I think from some long ago feeling of belonging, alongside the sense that this is a landscape we have lived and fed on in some previous life.
River Mouth drinks the sea
The rivers edge the seas shore
Landsea sealand
A Riverine, estuarine, saline meeting point.
Where fish change their spots.
Unmarkable unchartable riddle riparian zone
River Tide River Tide River Tide
Spring Neap
High Low
Spate Dry Flood and Surge
water never still always pulled
Down stream and up moon.
Fluvial Settlement Sediment Nutrient
Sea level changes.
Submerged Bells
Submerged Forests
Floating Islands,
Floating Stages
Jetties to nowhere.
Strand Lines and Flotsam.
Tide to flood and float
Months late this memory and emotion continues to touch and inspire me."
Source of above and more info here
---
Walk the Tide; Scotland; 2013; Jo Hodges

A large scale participatory site specific performance event.
140 people marked the causeway from Kippford to Rough Island at low tide, linking land to island.
Collaboration with Florencia Garcia Chafuen.
Voice work by Ali Burns
Commission Making the Most of the Coast. Sept 2013
"Concrete Antenna is a 12" LP vinyl set of music, art prints, essays and tide table created by Tommy Perman, Simon Kirby and Rob St. John, inspired by their sound installation in the new landmark tower at Edinburgh Sculpture Workshop.
Using sparse piano, site-specific field recordings and archive sound samples, alongside a number of production techniques derived from the architecture of the tower itself, the trio have produced an album which skirts modern classical composition, warm organic drones and flickering minimal electronica.
The Concrete Antenna LP will be released in a 12″ vinyl + print set and digital download on 14th September through Random Spectacular, the publishing imprint of design collective St. Jude's."
Much more info here.
Thanks to Rob St. John for the alert.
---
Various Tide Related Works by Richard Long. Dates various.
Ricahrd Long has lived in Bristol all his life so it is no wonder that tides often feature in his work.
They feature both in his made works and 'walk/text' works.
A Sculpture Left by the Tide

1970
From the TATE website
"Richard Long made this spiral shaped sculpture on a beach in Cornwall using seaweed that had been washed up by the tide. He then photographed it from an oblique angle. He subsequently used this photograph, uncaptioned, on the announcement cards for his 1970 exhibition at the Dwan Gallery in New York, along with a reproduction of England 1968 1968 (Tate AL00210), also uncaptioned. Both photographs were posted along with a postcard of Silbury Hill in Wiltshire, under which the legend of the hill's origin had been printed (see Tate AL00214). One of the central works in the Dwan Gallery exhibition was A Line the Length of a Straight Walk From the Bottom to the Top of Silbury Hill 1970 (see Tate AL00214), the spiral shape of which reflects that of A Sculpture Left by the Tide.
A Sculpture Left by the Tide was made in the same year as American artist Robert Smithson's seminal land work Spiral Jetty, which shares the same spiral shape. However, whereas Smithson's sculpture was made out of basalt rock and salt crystals on a monumental scale and was intended to become a permanent feature of the Great Salt Lake landscape in which it was made, Long's spiral made out of seaweed was more modest in scale and ephemeral in nature. For art historian R.H. Fuchs, the transience of Sculpture Left by the Tide is what makes the work 'most moving':
Sculpture Left by the Tide introduces duration in time as part of the sculpture's existence. Material, place and time, perfectly matched, are in fact part of the same movement of the sea meeting the beach. The sea at high tide deposits drifting seaweed on the beach. The artist moves the seaweed, which is slowly dying, into the finite form of the spiral which in itself is a figure of slow movement. There the sculpture awaits the next high tide, six hours later, which will wash it away. The six-hour existence of the sculpture tells us about the eternal movement of the sea. What I want to stress is how perfectly form and material were suited to the place: the beach. Sculpture Left by the Tide is a work made within the limits and conditions of the place, with no attempt to invade the place or overwhelm it with structures or materials not belonging to it.
(Fuchs 1986, p.133.)"
---
HALF-TIDE

BERTRAGHBOY BAY IRELAND 1971

---
TIDE WALK 1992
---
---
TideLine Art; Nicola White (Mudlark); London; 2012 onwards
A website devoted to tideline finds, and arts made from them, mostly in the mud of the London Thames; new finds emerge as the tides move the mud around.
See here
2015 find. (Photo Nicola White)